THE REAL DEAL: Dante's Pizzeria & Italian Restaurant serves quality and quantity at reasonable price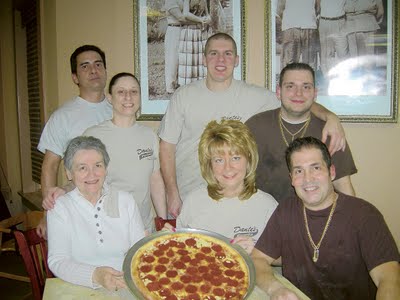 STOWE — There are three main ingredients that go into everything at
Dante's Pizzeria
: quality, cleanliness and family.
It's a recipe that owner Dante Di Donato Jr. has perfected since opening his first restaurant in 1982. (Dante's spent 14 years in Birdsboro before moving into the former Vine Street Deli in February 2006.)
"What makes us special is that we're really hands on," he said.
Just about everything on the menu is homemade from scratch, and served fresh.
"If you order chicken parmigiana, I'm pounding the chicken meat and breading it up (as soon as you order it)," he said.
Their widely-renowned signature sauce is made with tomatoes imported fresh from Italy, they make their own meatballs, and their tender veal is the best around (trust the Muncher on this one).
The menu offers plenty of favorites for any budget or appetite and will never leave you hungry.
"Nine times out of 10, people leave here with a doggie bag," said Dante. "We really give people their money's worth."
Naturally, Dante's serves some excellent neopolitan and sicilian pizzas, but the menu also features some popular gourmet pizzas, such as the famous spaghetti & meatball pizza with "Mom's homemade meatballs" and a Hawaiian pizza with Italian capicola ham, pineapple chunks, mozzarella cheese and sauce.
Dante's also serves a wide variety of speciality calzones and strombolis.
The sandwich menu covers everything from cheese steaks, pizza steaks and buffalo chicken cheese steaks to hoagies, grinders, and clubs. They even serve fresh hand-pressed charbroiled burgers and gismos. And they feature some other speciality sandwiches too, such as a ribeye cheese steak, hot roast pork and eggplant parm.
Soups and chilis are all homemade.
Dante's famous wings come in mild, hot, extra hot, BBQ, honey mustard, ranch, southwestern ranch, buffalo garlic and parmigiana peppercorn.
The menu includes a delicious variety of appetizers including brushetta, fries, mozzarella sticks, pierogies, fried calamari, fried ravili, French bread pizza, steamed clams and more.
And the cozy, well kept, dining room is a great place to come in for an unforgettable dinner. It's BYOB, and Dante's provides waitress service every day after 4 p.m.
Dinners include Dante's famous spaghetti, manicotti, stuffed shells, cheese ravioli, lasagna, eggplant parm, baked ziti, fettucini alfredo, veal parmigiana, chicken marsala, Chicken Ala Dante, Chicken Carbonaro and more.
But really, it's the care and dedication that Dante and his family puts into the food that makes Dante's Pizzeria & Italian Restaurant such a Great Place To Eat.
Dante's Pizzeria & Italian Restaurant is open for dine in, take out and delivery Monday through Saturday and is located at Vice & Center streets in Stowe. Hours are: 10 a.m. to 10 p.m., Monday through Thursday; 10 a.m. to 10 p.m., Friday and Saturday. Call 610-323-2344 for delivery or more information.
Labels: Dante's Pizzeria Italian Restaurant, Stowe