Home, Sweet Home: Route 100's coziest deli & bakery strives to treat guests with care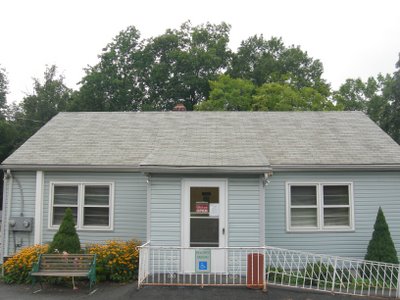 BECHTELSVILLE -
Rhona's Bakery & Deli may look like a snug little home nestled alongside Route 100... but

boy

is it sweet.
Not only does owner Rhona Farrence serve up a variety of homemade baked goods like pies, cakes and cookies all week long, but the eatery is also a deli and grill which provides fresh, savory breakfast fare, hoagies, cheese steaks, angus burgers, hoagies, and many other made-to-order sandwiches.
It's the ideal place to stop in for a quick and affordable bite to eat, whether you're on the run, on your way to work, or are looking to sit back and relax with a cup of coffee and some freshly baked pastries. There is a school teacher who stops in to grade papers. There is a guy who drives from Oley to get a breakfast sandwich "just the way he likes it." And there is even a truck driver from Connecticut who stops in every chance he gets when driving down Route 100.
But it's the manner of care Rhona puts into her food that makes the place so sweet and homey.
"I love to cook," she said. "The biggest complaint I get is that I give too much. So if you walk out of here hungry, it's your own fault.
"If someone asks me for something not on the menu, I do my best to accommodate what they are looking for," she said.
Earlier this summer, Rhona whipped up some blueberry pancakes for a guest who brought in some freshly picked blueberries, even though pancakes aren't listed on the regular menu. It's that caring attitude which makes Rhona's one of the greatest little spots in the area.
That, and everything is as home made and fresh as can be. Everything from sausage patties to meatballs, to the chicken in her famous chicken cheese steaks is made by Rhona, and made to order. She even breads her own chicken tenders. Indeed she does love to cook.
Rhona has owned and operated the place on her own since opening last November.
Some of her homemade bakery specialities include Jewish Apple cake, carrot cake, butter cake and peanut butter candies. But there is always a fresh assortment of cakes, pies and pastries on display to choose from.
The breakfast menu includes a number of sandwiches, including the famous sausage, egg & cheese sandwich, and Rhona occasionally features breakfast platters like french toast and scrapple.
The sandwich menu includes triple decker clubs, grilled cheese, roast beef, albacore white tuna salad, a fish sandwich, and a popular variety of hoagies and cheese steaks.
The menu also includes a number of salads, sides and a soup of the day.
Rhona is also available for catering your next event.
Rhona's Bakery & Deli is open Tuesday through Sunday and is located at 1171 Route 100 in Bechtelsville. Hours are: 6 a.m. - 2 p.m., Tuesday & Wednesday; 6 a.m. - 6 p.m., Thursday through Saturday; and 8 a.m. -1 p.m. on Sunday. Call 610-473-DELI for more information.
For more from The Mercury Muncher, check out the Mercury Muncher blog online at www.pottsmerc.com/blogs.
Labels: Bechtelsville, Rhona's Bakery And Deli